I bumped into a blog fan this morning who informed me that she was having withdrawal symptoms waiting for my next blog post - so Miss (Mrs?) H, here's a quickie (of the literary kind) just for you.
In case you're wondering about the lack of blog entries it's because I've been full steam ahead on the new book, which is going really well. I've written about two thirds of it so far and am still hopeful to have it launched by my pencilled in date of 28th November - allowing for proofreading etc.
Anyway, quickies. It's pretty much quickie everything these days it seems to me. I'm not sure if that's just me or the world at large but as the years pass, the phrase "there's just not enough hours in the day" seems to ring ever more true. God knows how people with a full time job manage.
As for quickies, well, I'm not just talking about them in the conventional sense (i.e sex), but I can't imagine many people these days are having long tantric intimate sessions, if indeed they ever did. A quick one during the ad break in Downton Abbey is probably the best most of us can hope for (assuming the kids have gone to sleep by then of course). Or if we're really pushing the boat out, half-time in the football. But it's not just sex. Whilst out in the car with the wife and kids and fancying a bite to eat, given the choice between a nice sit down meal in a restaurant and a quickie meal in McDonalds, it's Big Macs every time. Not because I prefer McDonalds, I don't but it just not worth the hassle of the other option, and besides, there's never enough time.
In fact, this is going to have to also be a quickie blog. There are a number of things I have been doing that I would like to elaborate on, but given time constraints, instead of my usual long rambling anecdotes, you're going to have to settle for a list..
So here are five notable things that have happened since my last blog entry.
1) Ollie got elected to the pupil council at school = proud dad.
2) I went to Telford to do the sausage tasting again. There were 700 this year and I came away with an extremely large "doggy bag".
3) I bought a new car. Well not a new car, one slightly newer than the other one which is about to die. I must try not to hit the gateposts with this new one.
4) I went to the dentist (twice) and the eye hospital (twice). Uninteresting, so I won't elaborate.
5) You can now get 8 bags of Marmite flavoured crisps for a quid in Poundland. They are my new favourite flavour.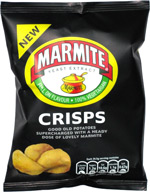 Love 'em or hate 'em?
And that's about it really. Back to the book now. Hope my little entry has helped to take away your cravings for a while. I'll be back x
Jason Ayres is the author of time travel novel "The Time Bubble", set in a small market town near Oxford, available now from Amazon http://www.amazon.co.uk/The-Time-Bubble-Jason-Ayres-ebook/dp/B00L3K1B8G/ref=pd_ecc_rvi_1
Jason